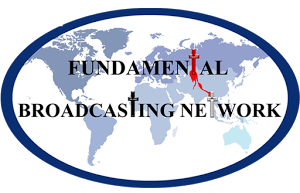 Fundamental Broadcasting Network
Grace Baptist Church
FBN is a local church ministry of Grace Baptist Church. Clyde I. Eborn, Pastor.

Contact us
Grace Baptist Church
520 Roberts Road
Newport, NC 28570
252-223-6088
Listener Letters
I want to tell you how much I appreciate your radio station. I turn it on as soon as I get up every day. You play all the hymns I heard all of my life, and I am 72. I sing along with the hymns.

Chambersburg, PA
So thankful I can hear FBN radio via the internet. Love the music, preaching and the cantatas and special music during the holiday seasons!

Broken Bow, NE


Love listening to FBN while I'm doing homework! Thanks so much, and God bless!

Kawagoe, Japan
Ways To Listen
FBN can be heard around the world
through these sources:

* AM/FM Radio Stations

* Internet

* Mobile Phone / Laptop / Tablet

Tune In Radio Instructions