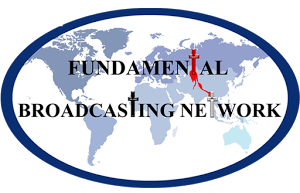 Fundamental Broadcasting Network
Eyes For No Other


Read John 3:16
Andrew looked dreamy-eyed at Rosie. He was in love. His mom said Rosie was noisy. Andrew didn't care. Hid dad said Rosie had big ears. Andrew he said he did not notice them. His sister even said that Rosie smelled funny. Andrew ingored them all. He did not see all the bad things other people did. Rosie was his puppy, and he loved her.
Boys and girls, God loves you even more than Andrew loves Rosie. When God looks at you, He could say, "They are sinful. They disobey." But He does not. Instead, He looks at each of us and thinks, "I love them. I want them to be saved. I want them to come live with me in Heaven." That is why God sent Jesus to doe on the cross. He loves us that much!
When you look at other people, what so you see? God wants you to see them as He does. See them as someone who needs to know Jesus.

BB
Thank you Glow Jr. Devotions for allowing us to use these devotionals on fbnkids.com. If you would like more information
on how you can receive these devotionals, please copy the url into your web browser: glowpublications.com